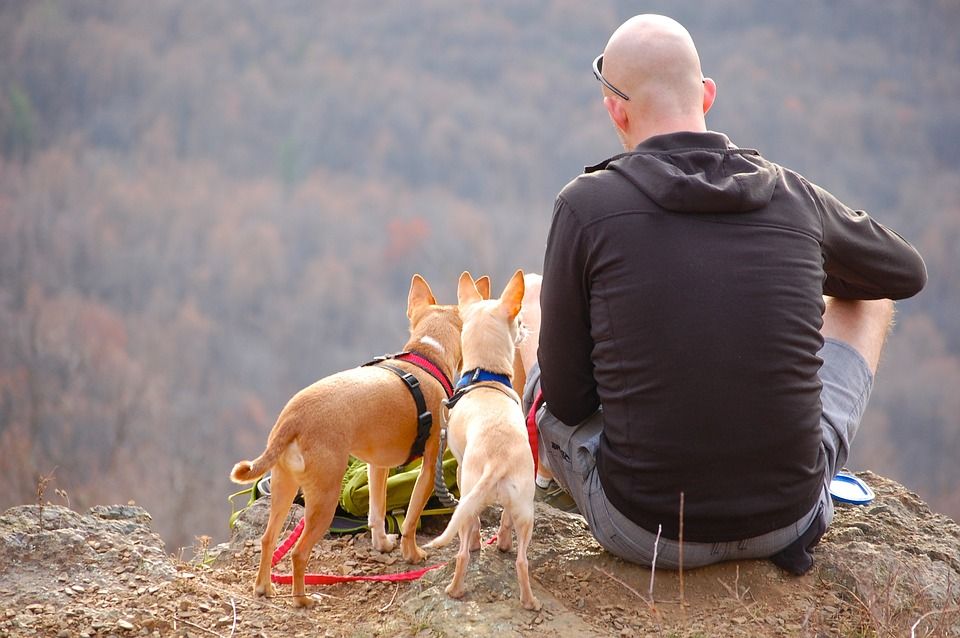 Camping is a favorite pastime of many families and is the ideal type of vacation for your beloved dog thanks to the promise of fresh air, sunshine and endless outdoor space to roam and explore. Not to mention that your dog makes the perfect playmate to keep any you or your children entertained!
If you haven't been camping with your canine before then you may be feeling a little tentative. However, there are a number of things that you can do to prepare for the trip ahead.
What to Pack
When packing up your car for the trip, it's not just your things that you need to remember! Your dog will need some items too, including:
Extendable leash and a collar with your contact details and if applicable, the contact details of the camp site you are staying on
Dog bowls
Food (and water if fresh water isn't accessible on your camp site)
Unless your dog will be sleeping in your tent with you, a dog tent or portable crate
Bed or bedding – he needs to be comfy too!
Towels, brush and dog shampoo - he is bound to need to clean up!
Poop bags - take plenty; you never know how often you are going to need them and make sure you dispose of them in designated areas
Adjustable tether to secure your dog when required and a stake to secure the tether to the ground
Glow stick! A great hack we have seen is to attach a cracked glow stick to your dogs collar for night time walks – just make sure he doesn't eat it as the chemicals inside can be toxic!
Before you Go
Camping is a change in routine that can be tricky for some dogs to adapt to, particularly if they are going from a relatively sedentary urban lifestyle to a week in wild parkland! However, there are some things you can do before you go to help prepare your pet.
Put up your tent or whatever you intend your dog to sleep in, in the yard and let your dog explore it. He is much more likely to sleep well and feel relaxed if he has had the opportunity to check out his accommodations before the trip!
Increase your dogs exercise level and change up walking routes if you can. Your dog may be looking at doing significantly more walking on more challenging terrain than usual, so any preparation you can do will be useful.
Practice your recall. Strong recall skills are vital to ensure your dog returns to you immediately if there is an unpredictable or dangerous situation. Ideally you should also have a command such as 'leave it' if you are camping somewhere where there may be snakes or other dangerous creatures.
You should ensure that your pet's vaccinations are all up to date. Fleas and ticks are found in abundance in densely wooded areas and so treating your dog with preventative medicine is absolutely crucial. Your veterinarian will be able to advise you which one is right for your pet.
Micro-chipping. Although you can put your ID on your dog's collar, microchipping is the only guaranteed way of ensuring that a lost dog is returned to its rightful owner. Again your veterinarian can advise you on microchipping.
While you are camping
Some things to remember:
Supervise your dog at all times. If you are staying on a camp site you may be required to keep your dog on a leash or within designated areas.
Supervise your dog around children, strangers and especially around other dogs.
Wherever you are make sure you clean up after your dog and dispose of his poop bags in designated bins.
Ensure that there is sufficient shade for your dog to be able to get out of the direct sunlight when he wants to.
Be watchful for heat exhaustion, particularly in the summer months. Keep your pet as cool as possible and offer plenty of fresh water.
If you choose not to sleep with your dog in your tent, make sure his accommodation is secure so that he cannot wander off.
Don't forget just how much temperatures can drop during the night and make sure your dog is kept warm enough using extra blankets or snuggling up with him in your tent.
Take a first aid kit and check your dog for ticks every day you are away.
If you plan on doing a lot of hiking then consider investing in some hiking booties which will protect your dogs paws from rough terrain.
Camping is the perfect vacation to spend with a four-legged friend and with these tips we are certain you will have a terrific time.