Dog and Cat Acupuncture Services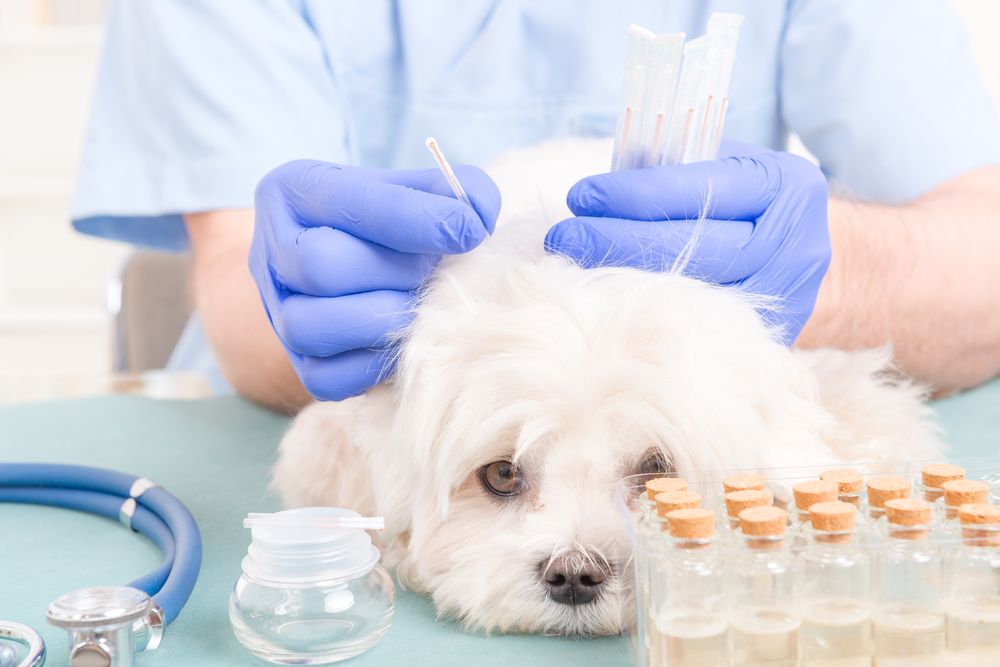 ​​​​​​​Since acupuncture has been around for thousands of years, it is unsurprising that most people have heard of this form of holistic therapy that involves the placement of ultra-fine needles into the body. Yet many still don't truly understand how acupuncture works and how it can benefit them. Even fewer people know that the advantages of acupuncture can also be extended to our furriest family members – so much so that acupuncture is now being regularly recommended by veterinarians everywhere as an additional form of therapy for animals in need.
Our team is trained and experienced in the art of veterinary acupuncture and are delighted to be able to offer this service to animals in the vicinity of our veterinary clinic in Live Oak, CA.


How does acupuncture work?
Acupuncture is an ancient Chinese form of therapy that uses ultra-fine needles to penetrate the skin to either alter the flow of energy (known as qi) around the body or stimulate certain points so that the body can heal. Acupuncture treatment is undertaken with the aim of restoring all of the body systems to a state of balance that enables the patient to be healthier. To do this, the needles are inserted into the skin at pre-determined locations, triggering your pet's body to produce natural substances that will be beneficial for her health - for example pain-relieving endorphins and serotonin to relieve stress.


What health problems can acupuncture help to treat?
Acupuncture has been shown to be successful in alleviating pain and other symptoms associated with many different pet health problems including the following:
Arthritis

Chronic neck pain

Chronic back pain

Knee and joint problems

Respiratory conditions, such as feline asthma

Skin problems, for example scabies or allergic dermatitis

Reproductive issues

Digestive system problems, such as irritable bowel syndrome or dietary intolerances


What can I expect to happen at my pet's acupuncture appointment?
Your pet's acupuncture appointment will be a quiet, relaxing process that shouldn't cause her any distress. You and your pet will be taken to a room where she will be placed onto a comfortable bed or table. Pre-sterilized needles will then be inserted into her skin. Exactly where these needles will be placed will be pre-determined based upon the type of health problem that your pet is experiencing and will be discussed with you ahead of your pet's appointment. There are no side effects and you will be able to take your pet home immediately after the appointment.


Will acupuncture be painful for my pet?
Acupuncture shouldn't be a painful process for anyone or any pet. Your animal may feel a tiny scratch as the needle goes in, but this should last a split second as after it is placed, there should be no discomfort at all. The needles will stay in place for up to 20 minutes before being removed. You will be able to stay with your pet throughout. However, most find the experience very relaxing and will happily rest or even doze during the treatment.


How many sessions of acupuncture will my pet require?
Every animal that we see is complete unique and we base all of our treatments on their individual needs. As such, it is impossible to say how many sessions of acupuncture will be most beneficial for your furbaby until we have carried out a full assessment of her health requirements. We will be able to give you an approximate recommendation when you bring her in for a consultation. The number we recommend is also dependent on how well your pet responds to the treatment.
If you are interested in finding out more about the benefits of pet acupuncture, or if you are ready to schedule a consultation appointment for your pet, please don't hesitate to reach out to our team by calling our veterinary offices in Live Oak, CA on 530-491-4500.